Aug
16

Hello Friends of Dreamland,

Its Dancing Into Dreamland's 5th year, and it has developed quite a following.  Ticket Sales have been brisk, only a few front row tables left. Wow!

Every year the dancers blow me away and this year is no exception.  We have some returning favorites and have added an aerial silk dance, yep, just like Cirque du Soleil.

If you have never been to Dancing Into Dreamland let me tell you how the evening goes:

During the first hour you find your table, grab a drink, some food, review the silent auction items and if you have time, shake a tail feather on the dance floor.
At 8:00 sharp the program begins. For one hour you see unbelievable dancers perform and compete.They are all ages, all genres, and all levels of expertise.
Around 9:00 the competition is over, the judges are sequestered for First Place decision making, the guests have 10 minutes to text in their favorite.
Awards are presented at 9:45.

So Save The Date November 7, Friday night, 7-10 pm.  Dancers, guests, and volunteers click here for details. Special thanks to all our Sponsors.

Our judges this year have been confirmed as well for Dancing into Dreamland 2014, they are the same great panel we had last year. Pictured above at last year's event left to right are Christen Burke Pitts, Sericia Cole and David Miller.

Our AETN documentary is coming along swimmingly. These guys are so professional. There is so much story to tell; Dreamland's events and music, Taborian Hall's businesses, Knights and Daughters of Tabors mission, history of Ninth Street, AFB's restoration in the 90's, and now the Friends of Dreamland's nonprofit efforts. I can't imagine how they are going to get it all into a 1-2 hour documentary. I can't wait to see the final product!

Be watching for a date and time this Spring, 2015. The event is open to the public and will include tours of Dreamland, AETN documentary premier, photo booth, and dedication of more brick pavers. So get involved and buy a brick today.

We now have our emcee's for the event! Professor Clea Hupp and Alice 107.7′s Pool Boy will be our emcee's for the night. We couldn't have found a better team.

Buy a brick today and have it dedicated at our Friend Raising event in the Spring of 2015. We will have our documentary Premier and brick dedication all at the same time. Don't miss it!

Sponsors of DID 2014 are:

Business Sponsorships:
Landers Fiat
Stella Boyle Smith Trust
Mainstream Technologies
Magan Holcomb Partners
Aristotle Internet
Daniel Electric
Arkansas Panorama

Special Thanks to individuals:
Richard Davis
Sara and Ed Krouse
Ann and Grady McCoy
Mrs. And Dr. Keller
Mr. Wayne Ball
Flag and Banner
Home
Jul
14
Flag and Banner
Home
Jul
8
Soccer's World Cup has been good for the flag business, our June sales were our best ever.  I know you are not supposed to wear the US flag, so don't send me any scolding emails, but I have to say it is good to see young people, that are not from military families, show such gregarious patriotism.  We, at AFB, try to guide our youthful customers towards red, white, and blue scarves (for women or men) and hats (fun and caps) but we can only do so much.
Youth are naturally rebellious and this year they loved draping themselves in the American flag like a cape.  And I loved the patriotic fervor and unity the World Cup inspired.  We were all on the same side.  Not politically or philosophically divided, just patriotic citizens all cloaked under the same symbol, the American Flag, whether you wore it or displayed it. Go team USA!
Anybody that thought soccer was for sissies has changed their mind after this year's games; broken noses, sprained hamstrings, concussions, and some serious displays of male testosterone.  Tim Howard, USA's goalie, will never have to buy himself another drink in his life time.  Bald is back, and badass.
We are already looking forward to the Women's World Cup in Canada next year, with it being a bit closer to home, you can be sure American's will be well represented as fans, if our ladies (which I'm sure they will) qualify.  Plus we don't even have to wait long to continue to satisfy our new soccer bug…the qualifying rounds begin in October of this year.
In fact, the U.S. will host the women's CONCACAF qualifying tournament in Florida, California, Washington and some matches will be in Vancouver, Canada. The qualifying rounds are just as exciting as the cup matches!
Flag and Banner
Home
Jun
2

It's almost the half-way mark of the year 2014 and it looks like it is going to be a banner year for AFB.  Flag sales are strong and I am relieved to say the struggles of the 2012's website upgrade debacle are finally behind us.  I don't know if I have ever had such a cohesive group of employees before.  They all work together really well.  No finger pointing around here, they all work steady, take ownership, and share the praise.
We still have some things on our technology wish list (doesn't everyone) but nothing too major.  If you buy into all the propaganda about how to do business in the 21st century, you will go broke.  My old 2002 website had 80% SEO and I let someone talk me into upgrading.  DUH.  I would now kill for those kinds of numbers.  After 40 years in the business I can honestly say, "I have learned a few things."  It is hard to believe the internet for retail is almost 20 years old.  I feel like a blacksmith over here.
In 1975 advertising was either the newspaper or the local news on only three channels.  Currently AFB advertises across many platforms.  We still advertise in the newspaper, on TV, and the yellow pages, but we have added snail mail, email, telemarketing, Facebook, Twitter, Pinterest, blogs, Linkedin, magazines,  Google Adwords, and tradeshows.
I am ready to move AFB to the next business model.  I have some ideas.  Stay posted.  It will be a Brave leap.
Flag and Banner
Home
Mar
31
I can't remember the last time I saw so many flags in the news. It began peacefully at first, with the Sochi Olympics, but as soon as that was over, a burst of chaos and protests broke out, and the whole world began waving their flags.
Flags date back to before anyone can remember. For millennia, people have flown fabric symbols to represent their cause, patriotism, revolutions and even sports teams. People also use flags to gain recognition, for advertising purposes and sometimes just for the beauty of the flag itself. The list of uses for flags and banners is endless.
Next to the Christian cross, the U.S. flag is the most recognized symbol of all time. This is due, in part, to its simplistic design. Simplicity is one of many qualities that make a flag more effective. The old design adage, "less is more," is definitely true of flags.
When designing a flag, think like a child with sheet of white copy paper and only three crayons. Do not exceed those three colors, and keep the colors solid. Gradation may look nice on a website, but the shading may not look as good on a flag.
You should never, ever put a seal or map on a flag. Small details like that cannot be recognized from afar, and you want the design to be recognizable from atop a flagpole. What's more, such details may be expensive to reproduce, and you want your flag to be affordable for all supporters.
If you are interested in learning more about flag design, FlagandBanner.com has a glossary of common flag terms on its website.
Flag and Banner
Home
Feb
17
I love visiting cemeteries. Surely I am not alone in this. I was in my twenties the first time I saw cemeteries through different eyes. It was a beautiful day in downtown Little Rock and I was meeting an old friend for lunch. We wanted to dine outside, and he suggested we grab a bag of fast food and meet at the old cemetery. It was a little slice of peace right in the middle of the busy city. The cemetery was like a well-groomed old park no one went to. Reading the tombstones was inspirational and made you reflect on your own life, creating good sentiments for every person.
This Memorial Day, consider a family outing to an old cemetery near you. There are all kinds of cemeteries – military, city, church, family, confederate, etc. You can even come upon one when you least expect it. I was shopping for plants at our local nursery, a large one on the edge of town, when I wandered to the back of the property and found a small creek with 100-year-old tombstones strewn about. It was an old family plot. The current owners had been respectful enough to leave it and had even added a picnic table where employees could eat lunch. Again, it was a slice of peace that felt soothing and reverent.
Each spring when I freshen up my flowers, I check on the little graveyard. One year, a new grave had just been added. It looked out of place because there had not been a new grave in more than 50 years. An old man was working the register, and when I checked out, I asked him about the grave. He said it belonged to his wife, who had died at the age of 81.
The next year when I made my annual spring visit, I checked on the cemetery and found another new grave. It was the old man, who had died and was laid to rest next to his wife. The graves inspired so many feelings. I felt special to be viewing them. I felt very small in our universe and very big at the same time, to be connected through so many cemeteries.
If you decide to take your family or friends to a cemetery this Memorial Day, be prepared for your soul to be sated. It is a powerful, positive experience. Depending on the type of graveyard you visit, you may want to bring along a snack, sunscreen, camera, pen and paper, flowers, or flags. If you get hooked and want to dig deeper, you can begin to research the art and symbolism on the monuments and mausoleums for an intellectual and spiritual experience.
Also, those who research genealogy may want to bring along paper and charcoal or crayons to take rubbings from tombstones of the people you've researched.
Flag and Banner
Home
Jan
28
Last week I got a call from my business neighbor, the Mosaic Templars Cultural Center, which I call our sister building because we are positioned like bookends on either end of Ninth Street, the street once home to Little Rock's thriving black business district.
The caller asked if we would partner with the center for its upcoming MLK Youth Challenge, during which high school students celebrate Martin Luther King, Jr. Day by visiting the center for a day of service. The students are divided into groups of 10 and, with their group leaders, are assigned a working location in the community.
I was happy to be asked and oblige, and decided they could paint the floor of the Dreamland Ballroom.
When they arrived, I treated them to a tour and told them about the history of the building and the African American community in Little Rock. As a white woman, I am always aware that I am a bystander to this part of history. It would be inadequate for me to tell the horrific stories of the cruel, berserk behavior the black community was subjected to during the ballroom's heyday, so I focus on the positive accomplishments of black businesses on Ninth Street. Still though, it is not my history and I tread lightly.
I was shocked to learn that these children knew nothing about Ninth Street, an old stomping ground for many of their grandparents. They knew nothing about the rise and fall of this area or the ramifications of desegregation on their culture's infrastructure.
I suddenly felt validated. It does not matter what color my skin is, because  I have saved a part of history. In doing so, I am giving back to my community.
Martin Luther King, Jr. Day is not my day. It belongs to the African American community, but that does not mean I cannot participate and learn. Everybody knows how King marched and spoke out for civil rights, but the old timer in this article, who lived the struggle, said "Dr. King ended the terror of living in the South."
See our photos from the event on our Facebook page.
http://m.dailykos.com/story/2011/08/29/1011562/-Most-of-you-have-no-idea-what-Martin-Luther-King-actually-did
Flag and Banner
Home
Nov
25
WOW, another great Dancing Into Dreamland!  If you don't already know, Dancing Into Dreamland is FOD's (Friends of Dreamland Ballroom's) annual fundraiser.  The fundraiser's goal is to raise enough money to sustain itself from year to year, to raise awareness about, and to make small improvements to this awesomely cool, spiritually uplifting, massive, historically significant, ballroom atop the Arkansas Flag and Banner building in Little Rock, Arkansas.  The long range goal is to acquire an elevator so everyone can experience its awesomeness.
In 2009 FOD was founded.  It has been a 4-year love affair that is not for the faint of heart. I am happy to say the start-up days are over.  I believe FOD is halfway to their elevator goal.  The reasons being; more and more people are learning about and falling in love with Dreamland, and statistically speaking it takes about 10 years to achieve a new business's goal.
The attendance this year to DID2013 was larger than ever and there were people from all over the country. Maybe next year Oprah Winfrey will attend our event and decide an elevator for FOD is in her giving plan.  I mean if you're going to dream….Dream Big!  Dreamland Big!
Check out the Dreamland Ballroom Website at www.dreamlandballroom.org.
Check out our Facebook too and see pictures from all 4 years of our great fundraiser!
Flag and Banner
Home
Oct
28
American Express, the credit card company, recently tried to solicit my business by sending me a book about entrepreneurs. A few years ago they sent me a really cool, remote, helicopter in an attempt to get me to join, the flying mechanism was withheld till after application. But this year's teaser is different; I get to enjoy it immediately.
The book they sent "Heart, Smarts, Guts, and Luck" is the work of three prominent business leaders who put together a compilation of research and interviews with hundreds of business builders from across the globe.
It has been a great read and validated many of my thoughts like: we entrepreneurs often consider our business like our child; I refer to AFB as my first born. And I have often said I am ambitious and passionate and not that smart. The book calls these traits "Heart" and says it is the most important trait of a successful entrepreneur.
Sometimes we all wonder, "What's it all about?" In this book it gave me some real food for thought. They called it a business's litmus test. Ask yourself the question, "If your business was gone tomorrow would it be missed"? ABSOLUTELY! We would be missed by thousands. Not just in Arkansas but around the world.
We have been experts in the flag business for almost 40 years. Arkansas' FlagandBanner.com boast many things: Over 22,000 products online, and my favorite boast "Quality Products, Expert Service, Outrageous Support" and of course "More than just a flag store!"
Flag and Banner
Home
Oct
9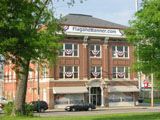 I am not trying to take a position. I just want to share my experience, to date. I think we are all starved for information from real life experiences and not political wrangling when it comes to the Patient Protection and Affordable Care Act or "ObamaCare."
It seems Arkansas Governor Mike Beebe, did his ObamaCare due-diligence; through his leadership, Arkansas is one of the states that opted for a combination of both Federal and State aid.  What does this mean?  Yesterday we found out.
Our healthcare provider, Robbi Davis Insurance, learned and embraced the new changes.  For no fee, her agency introduced the healthcare plan to the employees of Arkansas' Flag and Banner -no fear mongering, no political platform, just the facts.  After a group presentation with an overview of the coverage and options, each of her insurance agents met privately with each of my employees to discuss their options and waylay their fears.
Outcome: most received better coverage for less, a few were mandated to their spouses insurance and one was grandfathered in and stayed on her existing policy for another year.
Arkansas' FlagandBanner.com has provided group insurance for its employees for years.  Because of our aging work force and the rising costs of healthcare, coupled with the consumer's desire for low price shopping, AFB's profit margin has declined forcing us to make tough decisions which included this being the last year we can help our employees with their health insurance.
For us, ObamaCare has provided a win-win solution for our small business in trying to do the right thing for our employees.  Another befit we did not realize until our meeting, was there is no longer a distinction between the part-time and full-time healthcare rules as in the past, I see this new law as an aid to improving the hiring process and work force of America.
Flag and Banner
Home