Mar
31
I can't remember the last time I saw so many flags in the news. It began peacefully at first, with the Sochi Olympics, but as soon as that was over, a burst of chaos and protests broke out, and the whole world began waving their flags.
Flags date back to before anyone can remember. For millennia, people have flown fabric symbols to represent their cause, patriotism, revolutions and even sports teams. People also use flags to gain recognition, for advertising purposes and sometimes just for the beauty of the flag itself. The list of uses for flags and banners is endless.
Next to the Christian cross, the U.S. flag is the most recognized symbol of all time. This is due, in part, to its simplistic design. Simplicity is one of many qualities that make a flag more effective. The old design adage, "less is more," is definitely true of flags.
When designing a flag, think like a child with sheet of white copy paper and only three crayons. Do not exceed those three colors, and keep the colors solid. Gradation may look nice on a website, but the shading may not look as good on a flag.
You should never, ever put a seal or map on a flag. Small details like that cannot be recognized from afar, and you want the design to be recognizable from atop a flagpole. What's more, such details may be expensive to reproduce, and you want your flag to be affordable for all supporters.
If you are interested in learning more about flag design, FlagandBanner.com has a glossary of common flag terms on its website.
Flag and Banner
Home
Feb
17
I love visiting cemeteries. Surely I am not alone in this. I was in my twenties the first time I saw cemeteries through different eyes. It was a beautiful day in downtown Little Rock and I was meeting an old friend for lunch. We wanted to dine outside, and he suggested we grab a bag of fast food and meet at the old cemetery. It was a little slice of peace right in the middle of the busy city. The cemetery was like a well-groomed old park no one went to. Reading the tombstones was inspirational and made you reflect on your own life, creating good sentiments for every person.
This Memorial Day, consider a family outing to an old cemetery near you. There are all kinds of cemeteries – military, city, church, family, confederate, etc. You can even come upon one when you least expect it. I was shopping for plants at our local nursery, a large one on the edge of town, when I wandered to the back of the property and found a small creek with 100-year-old tombstones strewn about. It was an old family plot. The current owners had been respectful enough to leave it and had even added a picnic table where employees could eat lunch. Again, it was a slice of peace that felt soothing and reverent.
Each spring when I freshen up my flowers, I check on the little graveyard. One year, a new grave had just been added. It looked out of place because there had not been a new grave in more than 50 years. An old man was working the register, and when I checked out, I asked him about the grave. He said it belonged to his wife, who had died at the age of 81.
The next year when I made my annual spring visit, I checked on the cemetery and found another new grave. It was the old man, who had died and was laid to rest next to his wife. The graves inspired so many feelings. I felt special to be viewing them. I felt very small in our universe and very big at the same time, to be connected through so many cemeteries.
If you decide to take your family or friends to a cemetery this Memorial Day, be prepared for your soul to be sated. It is a powerful, positive experience. Depending on the type of graveyard you visit, you may want to bring along a snack, sunscreen, camera, pen and paper, flowers, or flags. If you get hooked and want to dig deeper, you can begin to research the art and symbolism on the monuments and mausoleums for an intellectual and spiritual experience.
Also, those who research genealogy may want to bring along paper and charcoal or crayons to take rubbings from tombstones of the people you've researched.
Flag and Banner
Home
Jan
28
Last week I got a call from my business neighbor, the Mosaic Templars Cultural Center, which I call our sister building because we are positioned like bookends on either end of Ninth Street, the street once home to Little Rock's thriving black business district.
The caller asked if we would partner with the center for its upcoming MLK Youth Challenge, during which high school students celebrate Martin Luther King, Jr. Day by visiting the center for a day of service. The students are divided into groups of 10 and, with their group leaders, are assigned a working location in the community.
I was happy to be asked and oblige, and decided they could paint the floor of the Dreamland Ballroom.
When they arrived, I treated them to a tour and told them about the history of the building and the African American community in Little Rock. As a white woman, I am always aware that I am a bystander to this part of history. It would be inadequate for me to tell the horrific stories of the cruel, berserk behavior the black community was subjected to during the ballroom's heyday, so I focus on the positive accomplishments of black businesses on Ninth Street. Still though, it is not my history and I tread lightly.
I was shocked to learn that these children knew nothing about Ninth Street, an old stomping ground for many of their grandparents. They knew nothing about the rise and fall of this area or the ramifications of desegregation on their culture's infrastructure.
I suddenly felt validated. It does not matter what color my skin is, because  I have saved a part of history. In doing so, I am giving back to my community.
Martin Luther King, Jr. Day is not my day. It belongs to the African American community, but that does not mean I cannot participate and learn. Everybody knows how King marched and spoke out for civil rights, but the old timer in this article, who lived the struggle, said "Dr. King ended the terror of living in the South."
See our photos from the event on our Facebook page.
http://m.dailykos.com/story/2011/08/29/1011562/-Most-of-you-have-no-idea-what-Martin-Luther-King-actually-did
Flag and Banner
Home
Nov
25
WOW, another great Dancing Into Dreamland!  If you don't already know, Dancing Into Dreamland is FOD's (Friends of Dreamland Ballroom's) annual fundraiser.  The fundraiser's goal is to raise enough money to sustain itself from year to year, to raise awareness about, and to make small improvements to this awesomely cool, spiritually uplifting, massive, historically significant, ballroom atop the Arkansas Flag and Banner building in Little Rock, Arkansas.  The long range goal is to acquire an elevator so everyone can experience its awesomeness.
In 2009 FOD was founded.  It has been a 4-year love affair that is not for the faint of heart. I am happy to say the start-up days are over.  I believe FOD is halfway to their elevator goal.  The reasons being; more and more people are learning about and falling in love with Dreamland, and statistically speaking it takes about 10 years to achieve a new business's goal.
The attendance this year to DID2013 was larger than ever and there were people from all over the country. Maybe next year Oprah Winfrey will attend our event and decide an elevator for FOD is in her giving plan.  I mean if you're going to dream….Dream Big!  Dreamland Big!
Check out the Dreamland Ballroom Website at www.dreamlandballroom.org.
Check out our Facebook too and see pictures from all 4 years of our great fundraiser!
Flag and Banner
Home
Oct
28
American Express, the credit card company, recently tried to solicit my business by sending me a book about entrepreneurs. A few years ago they sent me a really cool, remote, helicopter in an attempt to get me to join, the flying mechanism was withheld till after application. But this year's teaser is different; I get to enjoy it immediately.
The book they sent "Heart, Smarts, Guts, and Luck" is the work of three prominent business leaders who put together a compilation of research and interviews with hundreds of business builders from across the globe.
It has been a great read and validated many of my thoughts like: we entrepreneurs often consider our business like our child; I refer to AFB as my first born. And I have often said I am ambitious and passionate and not that smart. The book calls these traits "Heart" and says it is the most important trait of a successful entrepreneur.
Sometimes we all wonder, "What's it all about?" In this book it gave me some real food for thought. They called it a business's litmus test. Ask yourself the question, "If your business was gone tomorrow would it be missed"? ABSOLUTELY! We would be missed by thousands. Not just in Arkansas but around the world.
We have been experts in the flag business for almost 40 years. Arkansas' FlagandBanner.com boast many things: Over 22,000 products online, and my favorite boast "Quality Products, Expert Service, Outrageous Support" and of course "More than just a flag store!"
Flag and Banner
Home
Oct
9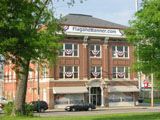 I am not trying to take a position. I just want to share my experience, to date. I think we are all starved for information from real life experiences and not political wrangling when it comes to the Patient Protection and Affordable Care Act or "ObamaCare."
It seems Arkansas Governor Mike Beebe, did his ObamaCare due-diligence; through his leadership, Arkansas is one of the states that opted for a combination of both Federal and State aid.  What does this mean?  Yesterday we found out.
Our healthcare provider, Robbi Davis Insurance, learned and embraced the new changes.  For no fee, her agency introduced the healthcare plan to the employees of Arkansas' Flag and Banner -no fear mongering, no political platform, just the facts.  After a group presentation with an overview of the coverage and options, each of her insurance agents met privately with each of my employees to discuss their options and waylay their fears.
Outcome: most received better coverage for less, a few were mandated to their spouses insurance and one was grandfathered in and stayed on her existing policy for another year.
Arkansas' FlagandBanner.com has provided group insurance for its employees for years.  Because of our aging work force and the rising costs of healthcare, coupled with the consumer's desire for low price shopping, AFB's profit margin has declined forcing us to make tough decisions which included this being the last year we can help our employees with their health insurance.
For us, ObamaCare has provided a win-win solution for our small business in trying to do the right thing for our employees.  Another befit we did not realize until our meeting, was there is no longer a distinction between the part-time and full-time healthcare rules as in the past, I see this new law as an aid to improving the hiring process and work force of America.
Flag and Banner
Home
Oct
3
According to national meteorologists, fall begins September 1st.
According to the calendar, fall begins on the Autumnal Equinox, September 22nd.
According to me, Fall begins when I take down the Bunting after Labor Day.  There are not many opportunities to decorate in the summer.  There are birthdays and in more recent years Cinco de Miyo but for as long as I can remember the only nationally recognized reason to decorate in the spring and summer is Patriotism.  Starting in May with Memorial Day, June for Flag Day, July for Independence day and last September for Labor Day (August is just a lost month, too hot for anything ).
Each year I grab a ladder with staple gun and yards of bunting.  I use a combination of premade and rolled bunting.
This year I decorated the garden with 1.5 x 3 ft. premade bunting called full fans that were easily stapled to the lattice. To make fans fit in any space, measure your area and overlap the top heading 1 to 6 inches as needed for a perfect balance.
On the main house I swagged a whole roll of our printed bunting.  I didn't bother to sew anything.  I stretched the whole roll in front of my house on the lawn to make sure it was long enough.  Then I decided how far apart to make the swags, mine are about 3 feet.  Next I counted the swags to know how many tie backs I would need.  The ties are 6 inch wide strips I cut from the ends of my rolled yardage.  No need to sew the raw edges because it's raveling is minimal.
Now start in the middle and work towards one end making adjustments as needed.  Whatever you did on one side you can repeat going in the other direction.  Throw in a flag display or wreath and voila; you have your summer decorations done!  It's now time to relax and enjoy the warm weather for months or at least until after Labor Day.
Bunting can also be used for any holiday, not just the patriotic ones. Our bunting, sold by the yard or by the roll, comes in a rainbow of colors to decorate for every holiday. Get orange and black for Halloween or pink for Breast Cancer Awareness this month of October for example.
Flag and Banner
Home
Sep
12
Last Friday, I joined with other fellow Rotarians to deliver 1000's of dictionary's to each 3rd grader in all Little Rock Public Schools.  In addition Rotary donated 3 library books to each school.  As volunteers we hand delivered the books and read the third grade classes excerpts from the books we are donating.
This was my second time to participate in this annual outreach program.  I love seeing the children and helping them learn how to use a dictionary and look up words.  I think the kids had a good time too.
Flag and Banner
Home
Aug
13
Our economy is in the post Industrial Age and it feels like a whole new society of sustainability. It may no longer be about being big in size but more about living big without leaving a big foot print. I am not against capitalism, I have been in business for 39 years, but I am recognizing that many of the contradictions of an industrial society are coming home to roost.
For the first time, America and other countries seem to be moving towards a more humane way of living.  Giving thought to what makes a good country might be more than its GDP.  Bhutan has a Gross National happiness index.  Maybe it is time to heal our planet and heal our souls.  Owning our mistakes and recognizing our old ways are not sustainable is a huge step. Vacant lots can be opportunities to grow food in community gardens. Growing our own food and shopping locally instead of trucking it across the country makes sense in many ways i.e. road maintenance, energy costs, fatalities.  The job shift will create a loss of trucking jobs but create more local jobs. Also, in cases such as the recent illnesses from salad mix from non-local and non-U.S. sources could be avoided.
It is nice to think of community again, to think of neighborhood partnerships, of feeling empowered, and able to effect change, of banning together for clean up, and crime watching. Why wait? My husband is bringing labor back into our neighborhood; he fills pot holes in our alley and street.
We could learn a lot from author and philosopher Grace Lee Boggs, a ninety-eight year old activist in Detroit, she said,  "You cannot change any society unless you take responsibility for it, unless you see yourself as belonging to it and responsible for changing it."
Visit FlagandBanner.com for products that help you make a smaller carbon footprint, like solar lighting for garden décor and flagpoles, totes and reusable shopping bags or recycled bags, puzzles made with recycled paper products and more.
Kerry McCoy is the owner of FlagandBanner.com and veteran business woman.
Flag and Banner
Home
Jul
20
Women's Equality Day is coming up on the 26th of August
and we have come a long way baby, or so I thought.  It wasn't until my staff started doing some research for our up-coming
sale
and
press release
that I realized the
Equal Rights Act for Women
has yet to be ratified.  I wonder how many other women know that?
I do know that I was lucky to be born in this important time in women's history.  I was just the right age at the right time to see, in our national news, all the changes happening for women.
As I was graduating from High School my mother, speaking from her generation's perspective, asked me, "What did I want to be: a secretary, nurse, or school teacher?"
I was shocked!  Limitations had never occurred to me and I didn't want to be any of those things.  I had tried volunteering as a Candy Striper and thought it to be gross.  Being the youngest in our family I had no experience with young children and had no desire to learn.  And last, book work I found tedious.  Thank goodness for the women like Barbara Walters, Gloria Stein, and Hillary Clinton who opened the doors for other women.
I started
Arkansas Flag and Banner
in 1975 during our countries Bicentennial.  It was a boon year for the flag business.  During this time there were sales quotas mandated by the Federal Government requiring the Good Ole Boys archetype to do business with women.  Arkansas Flag and Banner and many other women entrepreneurs benefited greatly from this program.  It was much like breaking through the Glass Ceiling of today.
I know the populous doesn't approve of quotas (me included) but sometimes they are necessary for positive change.
Flag and Banner
Home